Satellite Bureau
Jen Hamilton (Canada) and Jen Southern (UK) are artists who use Satellite Navigation devices to trace the routes people take through local environments and to make collaborative maps. During August and September 2005 they set up a 'Satellite Bureau' at the Creative Mwldan Media Centre in Cardigan as a base for their explorations.
This was their website.
Content is from the site's archived pages ranging from 2006 -2011.
The purpose of the bureau was to involve local people in making new maps of the area and the sea, and to find new ways of representing the data gathered. Local people were invited to take a walk or a journey determined by themselves, whether it was the route to work, to an historic building, to the sea, a walk for exercise or a meander based on more personal thoughts about location. The journeys were mapped with a GPS (global positioning system) device. In these collaborative maps there is a powerful sense of people collaborating on a map of a place dependent on personal experience, rather than the measured assessment of a formal map
An aside: I have relatives who live in Cardigan, an old market town on the beautiful coast of west Wales. The Mwldan is a vibrant arts and cinema complex situated in the center of Cardigan with three fully digital screens. They say they are Wales' only truly Independent multiplex. Mwldan presents a year-round diverse and eclectic professional programs of national and international artistic activity across a wide range of art forms, including drama, music, dance, film, literature, opera, visual and applied arts. When I visit my relatives we always plan on seeing a show at the Mwldan. I didn't see the 'Satellite Bureau' show in 2005. I was busy trying to land a job at a US e-commerce site selling wholesale & retail (online) janitorial and office supplies- Think Marcal paper towels, or toilet paper, or tissues etc. The company's headquarters are located in Jeffersonville, PA. where I am from. They offer an enormous reasonably priced line of janitorial supplies, cleaning, restaurant, office, snacks & breakroom, industrial & safety, technology products and office furniture. I wanted to work in the IT department, but eventually ended up in sales. I've moved on from CleanItSupply.com, but I still buy all my paper products from them. I even introduced the large upscale hotel chain where I now work to CleanItSupply.com.
BTW: I'm planning a trip to Cardigan this summer. I am excited to find out what exhibit will be at the Oriel Mwldan, Theatre Mwldan's gallery when I am in Wales. I must have my relatives show me the pictures they took when they were participating in the 'Satellite Bureau' show.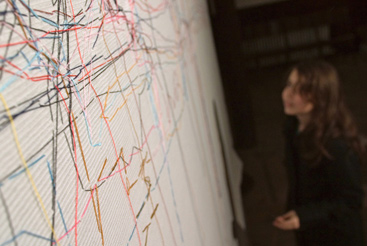 Image: © Philip Carr
Hamilton, Southern & St Amand is a collaborative arts practice based in Canada and the UK.
Jen Hamilton, Jen Southern and Chris St Amand have a social and tactile approach to technology and work with audiences to explore location and sense of place. Through commissions, exhibitions and residencies they produce installations, performances and websites to explore how new technologies influence the way we inhabit an environment. They have also collaborated with industry on the development of new tools for collaborative mapping.
Supported by Arts Council England, Yorkshire, the Digital Research Unit, Huddersfield and Pylon.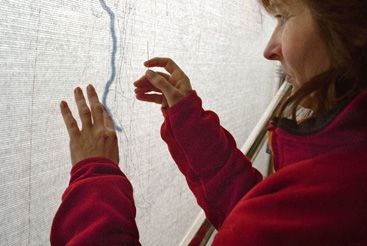 Hamilton & Southern have developed a collaborative working practice between Canada and the UK. They are currently interested in how technologies such as satellite navigation can be used to explore a sense of place through movement. Participatory research and active involvement with audiences are central to their practice whether it is through workshops, residencies or exhibitions.
Hamilton & Southern both have a background in sculpture and installation and in their collaborative work explore how intangible processes such as satellite navigation and perception of place can be transformed into physical and tactile installations.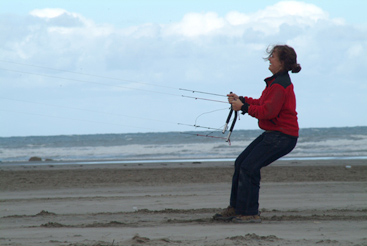 When developing new projects we often discuss a key text at length to generate a shared context, although the work itself arises from more intuitive conversations. This discussion is sometimes extended with an invitation to a writer to respond to the work.
This list also includes some conference papers and other pieces of our own writing.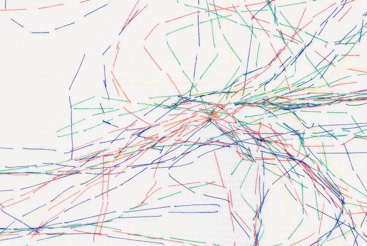 The fourth version of Running Stitch was made in Umeå, Sweden from 6 June to 6 September 2009. It was part of the Open Source Embroidery exhibition curated by Ele Carpenter at Bildmuseet Umeå, supported by Bildmuseet and HUMlab.
The exhibition then toured to the Museum of Craft and Folk Art in San Francisco where the finished Umeå canvas was shown with a video of the walking and stiching process on alongside it. 2 October 2009 to 24 January 2010.
The canvas is about 8ft square, roughly the same size as it was in Dundee. Gallery visitors were invited to either walk or stitch, and some people came in pairs to stitch each others walks. The gallery is situated between a forest and the city so they kinds of walks people made were quite different. Researchers at the Swedish University of Agricultural Sciences in Umeå have been working with the indigenous Sami people in Sweden to track reindeer using a similar live GPS system. In reference to this the thread colours for stitching were based on the colours of Sami flag.
This work was first exhibited at Fabrica in Brighton (see Running Stitch in the menu for a full description.)
Thanks to Onteca Ltd and Adam Hoyle for supporting us with Landlines and Mapper technologies to make it all run smoothly.
PROJECTS
Running Stitch - Umeå (2009)
Running Stitch - Yokohama (2008)
Running Stitch - Dundee (2008)
Worm Hole (2008)
Join (2007)
Kite Drawings (2007)
Banff Souvenir Scarf (2007)
Scaling the Mountain (2007)
Cyanotypes (2007)
Running Stitch (Brighton) (2006)
Shroedingers Tracks (2006)
Landlines (2003-2006)
Ebb & Flow: Cardiff (2005)
Time & Tide: Cardigan(2005)
Satellite Bureau: Cardigan (2005)
Satellite Bureau: Regina (2005)
Distance Made Good:
Flow Lines (2004)
Distance Made Good:
Field Study (2003)
Distance Made Good (2002)
---
---
Satellites
Derek Hales
Distance Made Good: Flowlines
This short essay discusses the use of Global Positioning Systems (GPS) in locative media practice, with reference to the works of Hamilton and Southern and the geo-philosophical writings of Deleuze and Guattari, particularly their notions of smooth and striated space1. In an earlier text by Annie Gerin on Hamilton and Southern, a textile technological model for their work (Distance Made Good) is introduced. In writing on the smooth and striated, Deleuze and Guattari had already described textile fabrics by way of illustration, first of a striated space, produced through the apparatus of weaving and then in contrast to this with the production of felt, as a smooth space without separation of threads only an entanglement of fibres, in principle open and unlimited in every direction.
The apparatus that Hamilton and Southern use for their investigations from urban spaces to coastlines is the GPS device: both state apparatus and war machine. The GPS as a state instrument, a part of the military apparatus is a surveillance device, a device used in military operations. The GPS as a state apparatus is one that produces a striation, a homogenisation of the space over which the state reigns. It does this by controlling and containing migrations, in its capture of flows, by imposing restrictions on speed and direction, and in its measurement and capture of movements. But, to complicate things, the GPS device is also used in the work of Hamilton and Southern as a war machine of a different kind, in that it offers a creative resistance to the control and striation of space – it is used for other purposes.
The GPS in locative media practice is a machine best characterised by movements across space rather than the grid that allows this movement to be plotted, reintroducing smooth elements that resist containment or evade spatial routine through simple acts such as walking to work through the city, putting out the lobster pots in a boat, or flying a kite on the beach.
This apparatus, this device, has association with drawing machines (and this is one of the things Hamilton and Southern use it for), with surveying machines and with a general expansion of perception through the use of technical devices. More interestingly it also has association with a projective geometry - one that opens multiple perspectives and subjectivities through a mobilisation of geometries of points of view.
... what makes me = me is a point of view on the world... through a mobilization of points of view... it's not points of view that are explained by the subjects, it's the opposite, subjects that are explained by points of view.
The GPS comes with sets of conditions that are useful in the description of a 'striated' or otherwise metric space – it is a triangulation machine for measuring and registering the location of points of practice in a particular locale. This triangulation machine is part of a technological assemblage – an interconnected network of technologies which include actual linkages and other associations (mobile phones, PDAs, computers, the wireless internet, radio signals, traffic monitoring, road maps, the ordnance survey, the history of maritime navigational technology, dependency on electromagnetism, the accuracy of atomic clocks, and so on). Considering the GPS as an assemblage this also includes the 24 satellites in orbit around the earth, as well as the mathematics that resolve location through the temporal measurement of radio transmissions and through the processes of triangulation or trilateration. A further association that can be made lies within the problem for triangulation this poses - where all points to be measured are in motion, not as fixed or static points but vectors – we can speculate that this might require the generation and computation of some intermediary constructions based on, lets say, intersecting circles or the surfaces of volumes - very much in the same way that Bernard Cache has described Philibert de L'Orme's 'trompes' being resolved through a generalised system of two intersecting conical shapes composed of parallel rays with vertices at vanishing points, or in the invention of stereotomy and other developments of perspective technologies. This begins to move the GPS, positioning locative media practice, as an architectural practice, somewhere between 1550 and 1872 AD, precisely where Cache locates the future of Computer Aided Design that other descendent of the perspective hinge in architecture.
The collaborative and participatory locative media work of Hamilton and Southern illustrates how the sets of conditions that come with the GPS can limit the descriptions of space and can render a journey into a two dimensional depiction - the drawn line. Though their work is not as straightforward or limited as that - it involves the drawing around a neighbourhood, a place, a site, a locale, and the rendering of this space into a contour, a line. It is this, the 'becoming-line' that it is to participate in this process, that is useful; such lines can be used to draw maps full of reciprocal interactions, influences and experiences, like drawing around the buildings, roads, and public spaces to trace the figure-ground but instead becoming an expression of pure movements, variations, differentiations - becoming points of view described as vectors, not points, or at least not only points. But, as well as points of view, to participate is to be rendered as points on the Cartesian grid of the GPS display. The work produces both representations and a multiple perspectivism; it is this that helps the artists delineate differences of spatial opinion differentials of speed, delays and accelerations, changes in orientation, continuous variations...
The GPS as assemblage manages space, movement through that space and conditions human behaviour in space - the GPS bends space around itself and develops an isomorphism with other elements across layers or strata. Through Hamilton and Southern's work we can see the stratification of social space as a layering of agency; the achieving of affects through exposed layerings or strata - language and technology, content and expression that cannot be reduced to a single plane, but instead become multiplicities of mutually determining layers. The GPS as wielded by Hamilton and Southern merges layers and re-introduces them as smoothing elements that cross and resist the containment of spatial routine.
What one sees as a visitor - and in developing this work Hamilton and Southern have been first-time visitors to their respective home towns – what is experienced by one as an alien, as one type of space, will alter slightly from how another sees and experiences and knows from memory to be the one type of space they frequently occupy, inhabit or traverse. Hamilton and Southern's practice and their work with communities of participants, can be seen as processes of projective geometry, as a practice of resistance or war machine in an urban and striated space. The 'becoming-line' of participants via the apparatus of the GPS which describes, or better still projects their points of view as rays and shadows: onto the pavement; into the cracks between the paving stones; in the fissures of the stones; through the gaps and into the surfaces of the city or town.
The GPS drawn line, as vectors in a field that is simultaneously smooth and striated, is a nomadic line that continuously smooths and makes malleable an always already striated space with multiple orientations that pass between points, figures and contours: it is positively motivated by the smooth space it draws.5 The machinic aspect of the GPS as assemblage is in the habits and traits of participants in Southern and Hamilton's work and how these reveal and express the singularities of social space, the site and its becoming, those aspects that give a site, give architecture, its intensity and that actualise its virtuality.
---
---
Unfeasible Symmetry
Jen Southern & Jen Hamilton
Distance Made Good
First published in a-n Magazine October 2003
Over the past eighteen months we have collaborated on two new installations. The process of collaboration has led us into blizzards, across rivers, around swans, through forests and over golf courses as we attempted to discover how our geographical distance is linked to cultural difference.
The journey began when we were commissioned by The Gallery, Stratford-upon-Avon to make a new work that linked Stratford-upon-Avon with its sister city Stratford in Canada. In Canada there were three Shakespeare theatres, a river Avon, a gallery called The Gallery and even swans that are taken down to the river in spring in a 'Swan Parade'. That we were both called Jen added to this unfeasible symmetry, one we've been trying to understand ever since, in the original exhibition and in a new work for the Dunlop Gallery, Sherwood Forest, Canada.
We travelled to Stratford, Canada initially to explore the place and to find shared ground. There was a three-day blizzard; we soon realised that walking around a place with our heads down, eyes scrunched and hands deep in our pockets wasn't getting us very far. Exploring on foot was important to understanding the place. When we visited Stratford, England the heritage sites were all so clearly marked and preserved, the experience so packaged for us as tourists, that it was difficult to tell the real from the simulated.
It was then that we decided to work with GPS (Global Positioning Systems) devices that use satellites to pinpoint latitude, longitude and altitude, and would allegedly tell us where we are in the world. During a journey GPS data from specific points can be linked together to create a GPS drawing (see www.gpsdrawing.com).
Using locations that share names in Canada and the UK, we have explored the identity of places that afford a specific tourist image through one historical figure. The namesake location in Canada becomes not just a reflection of its colonial past, but often serves to reflect on the impossibility of a place in the UK being authentic or original. Situationist walking practices and Foucault's idea of Heterotopias were informative and influential to this work, as was Emma Posey's exhibition catalogue essay 'Memory Maps'.
We eventually chose to work with people living in these cities, who revealed the logistics of the towns in a way we could never achieve as visitors. We asked them to make GPS drawings of their everyday journeys, in contrast to simultaneous tourist walks we had made. These drawings, translated into physical installations created a temporary third space that exploded the myth or idea of a place that is associated with its name.
We work through expanded online conversations, with spatial and temporal gaps between replies. Research gets filtered to a shared 'sketchbook' website with links to other sites, books, artists and images. We type. A lot. But it is practical experiments that are central to our practice. We devise tasks, or objects, to make simultaneously which we then scan, photograph and describe in order to question our presumptions and processes and to clarify direction.
It is physical distance that prevents us from collaborating face-to-face but in using email it is often the differences in our perceptions as individuals that are greater than the geography. It is precisely these relationships, between geographical and cultural difference, that we are attempting to explore. Our use of GPS thus becomes a kind of perverse science, expressed in installations of quasi-surveying tools and methods, which attempt to understand cultural location through an essentially dumb technology that only ever gives us spatial location.
Establishing a shared area of practice in which collaboration is key has been exciting. When your practice is interrogated and expanded by a collaborator living about 5,000 miles away it is both highly productive and very frustrating. What makes up for adjusting to each other's thought processes and the timelag are the times when we independently come to the same conclusions or make the same conceptual leaps – and find a moment of unfeasible symmetry.
'Distance Made Good' at The Gallery, Stratford-upon-Avon, was reviewed in a-n Magazine, September 2002.
---
---
Distance Made Good: Installations using GPS to chart local topographies
Hamilton & Southern
Distance Made Good
Old and New Forms Conference: New Forms Festival 2004.
This paper discusses the collaborative installation works of Jen Hamilton (CA) and Jen Southern (UK). For this paper, specific texts by Michel De Certeau are referenced and used to explore the nature of GPS and walking as a process of discovery in its relationship to lived environments.
keywords: GPS, Mediated Movement, Technology and Embodiment, Lived Space, Urban streets, de Certeau.
This paper discusses our collaborative installations, in particular an ongoing series of works called "Distance Made Good." Here, specific texts are referenced as landmarks and are used to explore the nature of GPS and walking as a process of discovery in its relationship to lived environments. In this paper we chart our understanding of GPS technology in applying it to physical navigation of cultural space in cities. It features the GPS as a technology and a device that raises more questions than it answers.
In 2002 we were commissioned to make a work that linked the city of Stratford-upon-Avon with its sister city Stratford, in Ontario, Canada. We travelled to Stratford, Ontario to explore the place and to chart shared ground. We arrived at the beginning of an intense blizzard where we quickly realized that walking around a place with our heads down, eyes scrunched and hands deep in our pockets wasn't letting us see where we were. A 'physical' hindrance brought about by the weather limited our access to the experiencing of place.
When we visited Stratford England a cultural blizzard of sorts limited use. The heritage sites were preserved with such an intensity so as to intellectually "white-out" our sense of being in the place; it was difficult to tell the real from the simulated, or to chart our own course through space according to our own sensibilities without being distracted and influenced by tourist industry fabrications.
After these two preliminary research trips it occurred to us that the global positioning system might provide a means in which to physically navigate between two locations. We saw that it was a technology that offered to tell us where we were - at any given point despite physical or cultural hindrances - and prevent us from becoming lost. It was a way to make a physical tracing of a place and towards making experience tangible.
1.Triangulation As A Third Dimension: The GPS Device
It is useful here to explain briefly how GPS technology works. The GPS gives a singular representation of movement by receiving signals from geo-stationary satellites. This is different from traditional surveying instruments where the Earth's magnetism manipulates navigation instruments at ground level. In GPS technology the horizontal and planar relationship to the Earth is converted to a zenith - nadir relation, or highest point in the sky, to the lowest. Space is hierarchically reordered and one's position in navigating space isn't related exclusively to the ground. It is now also related to the sky.
From point to point, as the walker moves through space, the GPS device plots, making movement into a tracing or line drawing. As with the symbolic order of a map - read as it is from above as though looking down at the ground - the line drawings made with the GPS are 'read' as evocations of a sequence in space traversed through time, like a snail leaving a slime trail as it moves along, only in this case the slime trail is made from received satellite signals. Tracks become represented later after GPS coordinates are downloaded and interpreted by GPS software and displayed on a monitor.
In our work the GPS lines form the basis from which installations are made. Spatially investigated distant and twinned locations are compared to each other through individual date and location specific journeys. Local residents participate at this stage through direct collaboration, sharing with us, the regular routes they take on a daily basis. These shared experiences along with the purposeful routes we take generate the GPS lines, from which we make a third space later in installation.
With the GPS, space is interpreted according to drawn trajectories. This results in an abstracted construction of space. Space is thus mobilized and made into a ridged and Cartesian representation. With the sensibility of a place is suppressed sets of coordinates reduce the traversed space into an abstraction such that it seems hardly possible that the lines were made through the messy, earth bound dragging of one foot in front of another. Part of our investigation is to ask how we might reveal the walking - as grubby and ambiguous as it is - in the space traversed using such a uniform, and unambiguous technology of the GPS.
The satellite bird's eye view symbolized in the GPS line totalizes space taken from the actions of the walker. And so unlike the map, the GPS generates a representation of traversed space through actions taken at ground level. For us, this relationship and disparity between the detail of the walk and the whole of it in representation is important. The combined way in which the lines are generated - from above and from below - is a perplexing quality that is specific to GPS technology. The walk taken by a person through space is what generates the lines and makes the represented GPS lines seemingly more poignant and subjective than if they were simply charted out on a map, as space is rendered in what seems to be a far more direct and personal way. For us, an intriguing condition of this representation is the meagerness of the drawn line.
What is particular about these lines is that they only partially refer to the flavour and ambience of the experience of walking. Thus translated the enchanted world is forgotten and misunderstood despite the fact that to make a walk one really does move through space. We half expect a representation of walks to tell us something about where we've been, that in them they would carry the quality or have memory of what we did there. Walking is physical after all, kinesthetic and perhaps similar to the way dogs relate physically to a space they are in by rubbing their whole bodies in the dirt. The GPS device and lines exact an unambiguous, straight and narrow, technological representation of space. On the GPS screen are lines of routes taken, translated as liquid crystal strands. These linear pronunciations made by the device very quickly reduce movement in space into an abstraction. For us, our project then is to reinvest the GPS traces (as a form of represented space) with a remembering and an understanding, to bend the technology in order to capture the movement in space as an "enunciation."
Michel de Certeau calls walking an "act of enunciation" (de Certeau, 1989,97). "The walker's body follows the thicks and thins of an urban text" and writes space without being able to read it. The written text of the city for de Certeau is the "grammar" of the sidewalks and curbs. Its "legible order" found in signs posted in the streets is its infrastructure. Yet walking in the city has its own set of practices regardless of the rules or impositions put upon it by infrastructure. The walker enunciates space by moving through it in self determined ways. With this kind of reinterpretation of the urban planned code, the "desire paths" made by the walker who individuates space by walking where she wants to makes ambiguous the "legible" order given to the cities by city planners. Walks are creative and represent personal paths. The legible technology or order of the city becomes interesting with the people moving through it in specific ways, along their interconnected routes.
Even though the global positioning system's unambiguous code reduces walked paths to a set of coordinates, we can take these lined traces and begin to build a rigorous portrait of a place determined as it is by people walking through it. And like the walker who traverses through the city and enunciates space in a personal way, we interrogate the GPS technological representation of space in order to make ambiguous the 'legible' order of the technology.
The invisibility of the "city" - how it is used, its spatial nature, captured in movement - suggests that the GPS device can be used to reveal. But it only reveals in the way it is used on the ground, by the people who move through space. For de Certeau, the city is invisibly "enunciated" by bodies walking, like thoughts in the mind unspoken, or the gapped and fragmented space between "two lover's held in an embrace" (de Certeau, 1989:93). When we attempt to illuminate the space of a city, according to those that travel in and through it, we take the GPS device to the street level and walk with it as an agent that invisibly "writes" the city we cannot see. In the installation we re-represent the drawn lines that are texts of the city taken from the GPS of the space we travelled, and work to conjure the 'ground' level, "enchanting world", and thus reconfigure GPS representations. We envision a way in which to repair the 'gap' between represented space and the physical reality of walked space, to reconcile between the actual space walked and the meaning of spatial practices, towards the depiction or uncovering of a narrative, or a way in which to make the city visible.
2. The City Invisibly Enunciated
"Distance made good" is a navigation term meaning distance from your last position to your present position. In making the preliminary GPS line trajectories for "Distance Made Good" the artworks, we walked along a planned route, on the same day, in two separate cities sharing the same name. The way points along each route were chosen in advance, according to how we thought each city was represented through tourist landmarks. The mirrored way-pointed sites served to "twin" the two separate locations (both have a River Avon (including resident swans), a Shakespeare theatre; a public gallery (coincidentally sharing the same name); a train station and a foundational museum). The practice of naming a place after a "home land" town, as Stratford Ontario is named after Stratford-upon-Avon, suggests that the new place will in someway reflect, or even be like the home, original town. But here, it becomes confusing which place "in essence" is the original. This confusion is particularly pronounced because Stratford-upon-Avon relies economically on its 'birthplace' status through the re-creation and simulation of specific sites. Tourism in Stratford Canada is based in a much more straightforward way, on Shakespeare's plays, and any simulation there, in terms of tourist value happens principally through the act of naming. The waypoints we used in our route for the installation and in its research, represent loose concepts of what these two cities are for the tourist, and reveal a set of symbolic values shared by both locations. Combining the paths taken in the two cities together, the representation in a gallery creates a third space as an "interstitial hybrid" and uses metaphors that encompass the potential of "twinning," and the differentiation of the "tourist" spectacles.
The GPS lines are put into installations using tactile materials: rope, netting, cord, and sand bags. Our use of netting and lace in the installations - both time intensive physical handiwork in themselves - is important to the focus on the concepts surrounding the physicality of being space. In bringing both sites together at once, the installation shakes the viewer into a conscious identification of their own bodies in space. The physical arrangement in the installation reflects the main organizing principles from which the work is generated - namely mapping and the sensibility of actually walking through a space that has been realized using GPS to gather information. By manifesting the events of "walking" in a decorative format using "lace work," we re-familiarize the gallery space for those who participate with it, in a tangible way, towards the reinvention of the Stratford sites as more than their simulated identities.
Distance Made Good: Field Study done in 2003 uses GPS to trace a link between two other namesake locations: the municipality of Sherwood, Saskatchewan, Canada, and Sherwood Forest, UK - a tourist destination and home of the legendary outlaw 'Robin Hood'. Each site has been reinvented for recreation and mapped out for either a game of golf (as in, the Sherwood Forest Golf Course in Saskatchewan) or orienteering (as in Sherwood Forest orienteering course, in England). We again navigated these two "heterotopian" spaces on the same day, each with GPS devices in hand. And the work done in installation revealed the spectacle of myth making and flat representations of space as found in mapping as being slim and deficient portraits.
3. Creating the Social through Movement
We could perhaps characterize contemporary life by an individuals access to travel. There are diverse reasons for travel; for pleasure, for work, or out of necessity. This travel may be localized to one town, ranging across the country, or traversing the globe. The range and ease of travel between and within locations can be linked to social and cultural factors such as affluence, spare time, accessibility of transport, familiarity with geography, nationality, language, age and gender. This influences the way space is represented and thought about and the way it is actually experienced and moved through physically by the social, historical, and spatial constraints that punctuate its negotiation.
The "Distance Made Good" projects we have worked on have always used a GPS device in the research. We interrogate the technological limitations of the GPS representation of locale or 'place'. We enhance and manipulate its output through work done in installation. The concept that movement through space creates social realities is a main interest and thematic direction of "Distance Made Good" and the orientation point from which we discuss space, movement and technology. The concept that somehow movement through space creates the social is investigated by fashioning an active, living space in the installation. Travelled enunciations that are represented in the space of the gallery are changed into the third space where the interaction between two places happens. The manifesting of walking in a format that uses lace for instance, re-familiarizes the gallery space for those who participate with it, in a tangible way. The work invests the sites as being places more than their simulated identities.
De Certeau, M., 1989, The Practice of Everyday Life , University of California Press, Berkley.
Virilio, P., 1991, The Lost Dimension, Semiotexte, New York.
Jen Hamilton is an artist based in Saskatchewan, Canada. Her studio research investigates the connections and conflicts between sets of relations and kinaesthetic experience to question borders of knowledge and expand on the concept of the spatial imagination. The work proposes how something might work or what something is through a presentation of effects. Final pieces are dependent on narrative, evocations, and metaphor. She has exhibited in Canada and the UK.
www.24elements.net
Jen Southern is an artist based in Huddersfield, UK. Her process based collaborative practice investigates everyday journeys between virtual and physical spaces, which are navigated through socially embedded technologies such as video games and mobile phones. She is a senior lecturer at the University of Huddersfield. Selected Exhibitions: (UK) The Gallery, Stratford-upon-Avon; Yorkshire Sculpture Park; The Photographers Gallery, London; (International) Kunstraum Innsbruck, Austria; Arte Alameda, Mexico City; NPC, Bulgaria; DEAF, Rotterdam, Netherlands.
---
---
Curriculum Vitae
Exhibitions
2009
• Running Stitch - Umea, Open Source Embroidery, Bildmuseet, Umeå, Sweden.
•Running Stitch - Umea, Open Source Embroidery, MOCFA, San Francisco, USA.
2008
• Running Stitch - Yokohama , Dislocate08, Yokohama , Japan.
•Running Stitch - Dundee, Hannah McClure Centre, University of Abertay, Dundee, UK.
• Running Stitch, Digital Drawing Exhibition, Southwell Artspace, UK.
• Worm Hole , Pale Blue Dot, Regina Art Gallery, Canada.
2007
• Join, Trampoline, Broadway Media Centre, Nottingham, UK
• Walking and Art, The Banff Centre, Canada.
2006
• Running Stitch, Fabrica Gallery Brighton, UK.
• Distance Made Good, Off the Map projects. Futuresonic 2006, Manchester, UK.
2005
• Ebb and Flow, May You Live in Interesting Times festival, Cardiff, Wales.
•Satellite Bureau, Neutral Ground Gallery, Regina, Canada.
2004
• Distance Made Good: Flow Lines, Folly Gallery, Lancaster, UK.
• Distance Made Good, Futuresonic, URBIS, Manchester, UK.
2003
• Distance Made Good: Field Study, Dunlop Art Gallery, Sherwood Village Branch, Regina, Canada.
2002
• Distance Made Good, The Gallery, Stratford-upon-Avon, UK.
Residencies
2007
•Walking and Art , The Banff Centre, Canada, Sept-Nov.
2005
• Convergency Residency, May You Live in Interesting Times New Media Festival, Creative Mwldan, Cardigan Wales, Aug-Sept.
The residency is part of MAY YOU LIVE IN INTERESTING TIMES, Cardiff's inaugural festival of creative technology - a three-day programme of events being held across the capital, 28th to 30th October 2005. The festival is being developed between bloc and Chapter. This residency was hosted by Creative Mwldan Creadigol, Cardiff. The residency programme for the festival is supported and managed by Cywaith Cymru . Artworks Wales, the national organisation for public art in Wales. MAY YOU LIVE IN INTERESTING TIMES is a Cardiff 2005 event.
• Digital Research Unit.The Media Centre, Huddersfield UK, Jan-Mar.
2004
• Grizedale Arts, Cumbria, UK.
Commissions
2004
• ITEM commission supported by FACT, the Foundation for Art & Creative Technology, UK NESTA, and the Arts Council of England.
Conference Presentations
2006
• DRU Huddersfield. Presentation at Culture Lab, Newcastle.
• Pecha Cucha, Fabrica, Brighton.
• Imagined Landscapes, Cumbria Institute of the Arts.
• Getting to the Point with Simon Pope, Michelle Teran and Pete Gomez, Futuresonic06.
• Diffraction Conference, FACT, Liverpool.
2005
• Satellite Bureau: Ebb & Flow, May You Live In Interesting Times Conference, Cardiff, Wales.
• Landlines, Digital Research Unit, The Media Centre, Huddersfield.
• Pylon panel presentation, Transmediale, Berlin, Germany.
• Landlines, PLAN, ICA, London, UK.
2004
• Distance Made Good: Installations using GPS to chart local topographies. New Forms Festival, Vancouver.
• Distance Made Good: Liquid Spaces. CiberartBilbao 04.
Publications and Press

• Wendy Peart, Pale Blue Dot, ex. cat. Regina, SK: Art Gallery of Regina, January 2008.

• Jack Anderson,At the Galleries: Artists Consider our Effect on Earth, Leader Post Newspaper, Regina, SK., 7 February 2008, B-2.

• Kris Cohen, Beside Ourselves Sometimes, PYLON online critical essay,
• Annie Gerin, To Walk, catalogue essay Distance Made Good: Flow Lines, Huddersfield University Press, Fall 2006.
• Derek Hales, catalogue essay Distance Made Good: Flow Lines, Huddersfield University Press, Fall 2006.
• Jen Southern, Unfeasible Symmetry AN Magazine, October 2003.
• Emma Posey, Memory Maps, Distance Made Good: Jen Hamilton/Jen Southern New Installations Via GPS. Edited by Annabelle Longbourne. Stratford Upon Avon: The Gallery, catalogue essay, 2003.
• John Cornwall, Distance Made Good, AN Magazine September 2002.
• David Maddox A tale of two Stratfords, Stratford-upon-Avon Herald, July 11 2002.

Blogged
http://inhearoutthere.wordpress.com/2008/09/08/day-5-goodbye-9001ers/
http://news.bbc.co.uk/1/hi/scotland/tayside_and_central/7331461.stm
http://elusivesprite.squarespace.com/phd_journal/2008/5/8/running-stitch-chaos-computer-club.html
http://irhphd.wordpress.com/2008/03/12/running-stitch/ http://www.bestwestern.co.uk/Editorial-News/Article/New-artistic-map-of-Dundee-to-be-created-282.aspx
http://news.scotland.org.uk/2008/04/07/running-stitch-to-create-dundee-map
http://www.alaskajohn.net/pile-images/main.php?g2_itemId=2976 http://cemore.blogspot.com/2006/11/running-stitch-capturing-space.html
http://blog.ivanpope.com/awol/2006/11/running_stitch.html
http://upcoming.org/event/148967/
http://brainoff.com/weblog/2006/11/25/1210
http://babblebabblebabble.blogs.com/babble_babble_babble/2006/12/
http://ohyesindeed.blogspot.com/2006/11/useful-people-in-birmingham-area.html
http://some-landscapes.blogspot.com/2006/11/brighton-in-stitches.html
SatelliteBureau.net